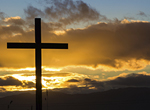 Easter Weekend brings many blessings each year. The remembrance of Christ's sacrifice for us on the cross. His promise to rise again, and the Sunday celebration of Him doing so. Family get togethers. Children hunting eggs and getting sugar highs from their baskets full of candy. All of these things are part of the beautiful Spring weekend that we have come to know as Easter. At Faith Decision Missionary Baptist Church, there is something else that highlights our Easter weekend each year… Sunrise Service.
Getting up before the crack of dawn may not always sound so appealing. However, when it comes to hearing an uplifting message from His word and watching the sun rise on another gorgeous day, while being surrounded and united with other fellow believers, Easter Sunday Sunrise Service truly delivers! Oh, and did I mention that afterwards you get to eat all your heart desires from a smorgasbord of breakfast foods prepared hot for you by the men of the church?
This year's Easter Sunrise Service, though a bit chilly, brought our church together for a heartwarming celebration of Christ's love for us and a belly-filling time of fellowship for all involved. Mark your calendars now, and please join us for the next sunrise experience, coming Easter 2016.