About Pastor Douglas Wilson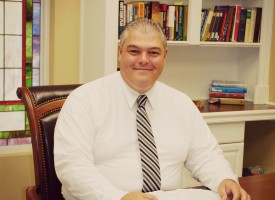 Pastor Douglas Wilson was born in Richmond, Kentucky and is a 1992 graduate of Madison Central High School and a 1997 graduate of Eastern Kentucky University, where he received a Bachelor of Arts degree in English. Douglas also earned a Master's Degree in Education in 2002. Douglas has served as a teacher in the Madison County School District for the past 17 years.
In 2013 Douglas enrolled in Colorado Theological Seminary, an Affiliate institution of the Association for Biblical Higher Education (recognized by the United States Department of Education and the Council for Higher Education Accreditation). Douglas is currently pursuing a Master of Ministry Degree. He was called as pastor of Faith Decision Missionary Baptist Church in February 2014.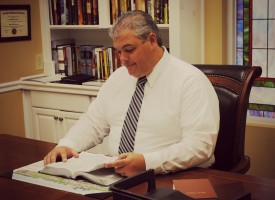 Douglas was blessed to have attended Waco Baptist, where he was baptized in 1983 and First Baptist Church in Richmond where he previously served as a Deacon. He is thankful to have been raised in a Christian home and to have had Sunday School teachers, mentors and pastors who encouraged him in his spiritual walk. Additionally, during his youth and as an adult, he feels blessed to have had the Rev. Curtis Warf and Rev. Bill Fort as Pastors.
Douglas is married to Julie Ann Wilson who works as a nurse in Mt. Vernon Ky. Julie is a faithful partner in the ministry. Douglas and Julie Ann live just 15 miles from the church on their farm in Crab Orchard Ky.