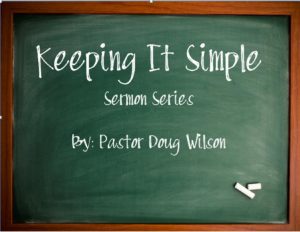 Is your life too hectic and cluttered? Do you have so many things going on that you can't even imagine how there is time for anything else, let alone time to sit down and read a books that's opened so infrequently it's collecting dust. Most of us could truly benefit from a simpler lifestyle. Yet many times we don't even realize how we complicate our own lives unnecessarily.
Come visit us at Faith Decision Missionary Baptist Church this week, as Pastor Doug Wilson leads us through a sermon series about Keeping It Simple. A bible study about simplifying our lives, at home and at work, at church and as individuals. How can we simplify and do more, live more for Jesus?
Sunday Morning Service starts at 11:00am. Come join us as we find out!